Inside: An easy handmade Father's Day gift idea.
Finding the perfect gift for the men in your life is hard! So when you are suddenly in charge of coming up with all of the perfect gift ideas from the kids each year, it just adds to the stress.
There is always plenty of choice in the shops but I like to try and get the kids involved in making something.
My husband also loves useful things so I try to steer clear of useless things and find things that he will actually use and enjoy.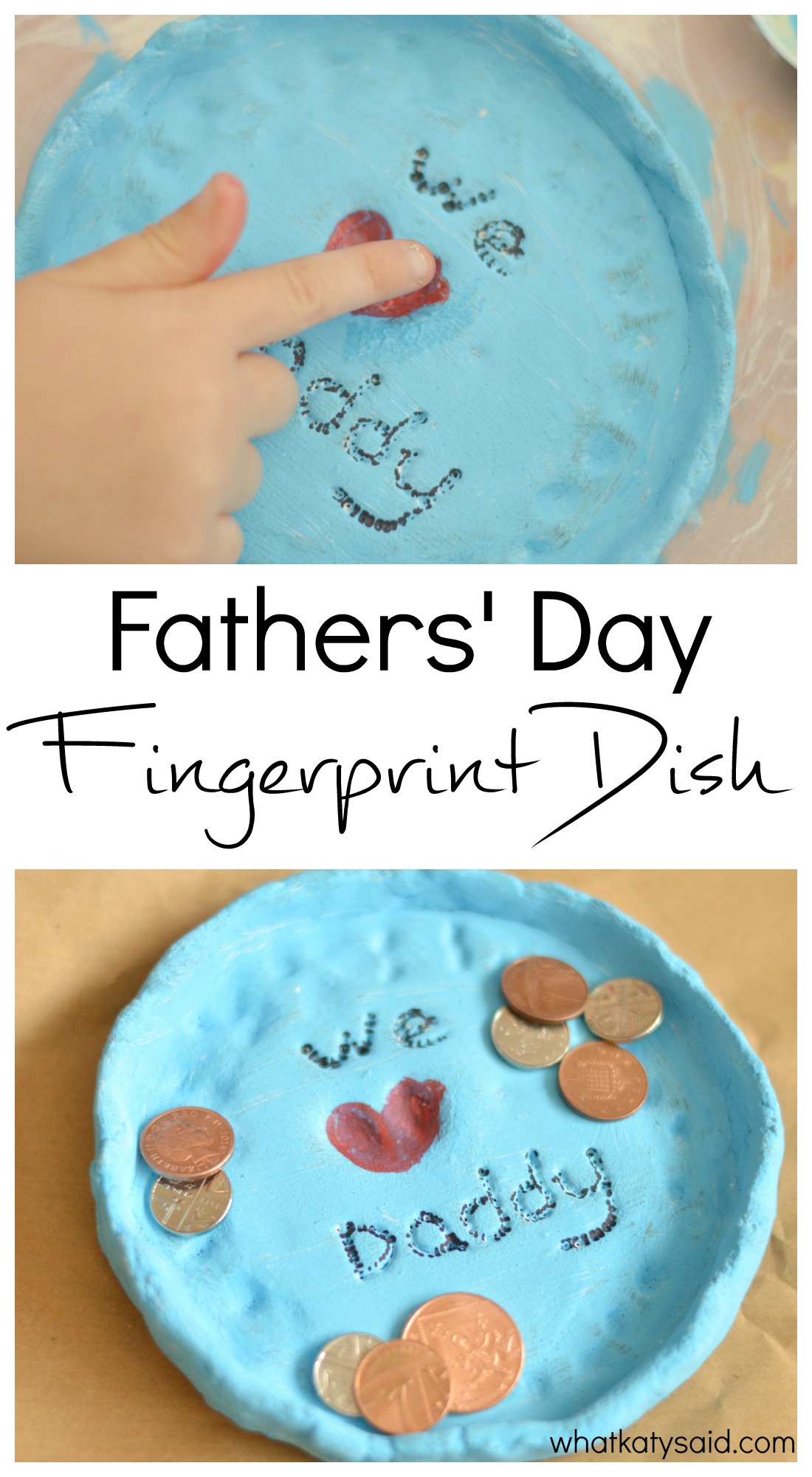 Of all the things my kids have ever made for their daddy, this has been the most used and most appreciated.
It now sits on his bedside table and it will always be a lovely keepsake and reminder of how little they once were.
How to make a fingerprint dish
If you are constantly finding piles of cash left around the house (why do they have to empty their pockets randomly?) then this craft idea is perfect for you!
What do you need?
Clay (we used air-drying clay)
Paint in their favourite colour
Making the dish
The clay we used is from Baker Ross and is an air-drying clay. It comes in a lump so the first thing you have to do is roll it out into a circle to a depth that is nice and solid (you don't want it to be too fragile).
I helped them to make sure it was round but other than that they were able to do it themselves.
The next stage is to fold up the edges to make it into the dish.
As they did this, they left little fingerprints and at first I tried to straighten them out but actually they added to the beauty of the piece so we left them.
I then wrote the 'we' and 'daddy' using a little pencil and left a space for them to make the heart with their thumbs.
It is completely up to you what you put in the middle of course, you could always put use a hand print, layering up with biggest to smallest if you have more than one child.
You have to leave the dish to dry out and harden for a few days but then it is ready to paint. We painted it white first to cover up the dark clay colour and then were able to paint it blue – daddy's favourite colour.
The finishing touch was to pick out the writing and of course the heart. And voila!!
Daddy will now have a dish to keep his pennies in rather than scattering them all around the house.
If you are looking for a Father's Day handprint gift then this is such a lovely alternative to the standard handprint crafts you may come across.
Now you just have to find the perfect card!
Yield: 1 dish
Father's Day Fingerprint Plate
Fingerprint dish for Father's Day
Total Time
3 days
1 hour
5 minutes
Materials
Clay (we used air-drying clay)
Paint in their favourite colour
Tools
Rolling pin
Paint brushes
Pencil
Instructions
Roll out the clay into a circle. You want it to be a good depth so as to not be too fragile once it is dry.
Fold up the edges to create a lip.
Using the pencil, write 'We' and 'Daddy' leaving a space in the centre for the thumbprint heart.
Using their thumbs, make a heart shape in the centre.
Wait for the clay to dry out. Ours took 2-3 days.
Paint the dish using their favourite colour, picking out the writing and the heart in a different colour.
Notes
If you prefer, you could use a handprint for the dish and skip the writing. It is just nice to create a useful gift but one that also holds a special memory such as the size of their little hands.